Homeowner's Guide to AC Compressors
Everything you need to know about compressors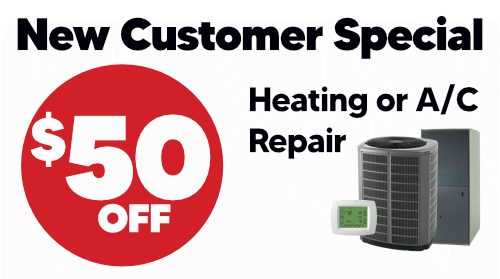 Offer expires Oct 25th, 2023
The A/C compressor is located inside the outside air conditioning unit. The compressor is a critical component in your system because it compresses refrigerant as it enters the unit in order to raise its temperature. Once heated, gas exits the compressor and enters the condenser, where the cooling process begins. While all AC compressors perform the same function, they do so in different ways and provide different benefits and drawbacks. If the compressor fails, then the air conditioner will not be able to effectively make your home's interior comfortable.
Types of Air Conditioning Compressors
There are several types of compressors used in today's HVAC systems. Only a handful are used in residential applications, while others are designed for commercial applications. The most common types we'll discuss in this article are:
Reciprocating
Scroll
Rotary
Swing
Centrifugal
Screw
Reciprocating AC Compressor
A very common type of AC compressor is what's called a reciprocating compressor. It works by having a piston move up and down inside a cylinder, which compresses the air, much like you would find in your vehicle's engine. As the piston descends, a vacuum effect is created which sucks in the refrigerant. As it rises, the gas compresses and enters the condenser. A reciprocating air conditioning compressor is very efficient.
Trane's ClimaTuff compressors use both scroll and reciprocating compressors, and is widely considered one of the better compressors on the market today. They are painted orange, so if you look into your outdoor unit, it's easy to see.
Pros of Reciprocating Compressors
Efficient
Because of the limited number of parts, a reciprocating compressor is more durable and easier to replace or repair than some of the other compressor types.
Cons of Reciprocating Compressors
The compressor makes more noise when it is running, which can be a deciding factor when choosing a window air conditioner for your bedroom or living room. However, Trane's ClimaTuff technology is very quiet.
Scroll AC Compressor
Scroll compressors have one fixed coil (called the scroll) in the center of the unit and another coil that rotates around it. The second scroll pushes and compresses the refrigerant towards the center during this process. Scroll compressors are quickly overtaking reciprocating compressors in popularity because they have fewer moving parts and thus are more reliable.
Trane's ClimaTuff compressors use both scroll and reciprocating compressors, and is widely considered one of the better compressors on the market today. Their scroll compressor was developed as a joint venture with Emerson, the leading manufacturer of Copeland scroll compressors. They are painted orange, so if you look into your outdoor unit, it's easy to see.
Pros of Scroll Compressors
Offers the greatest cooling capacity.
Energy efficient. Replacing an old reciprocating compressor with a scroll compressor will boost efficiency and save you money
Smaller in size.
Fewer moving parts and less torque variation compared to a reciprocating compressor.
They don't fail if liquid, such as water, gets into the refrigerant.
Reliability. Scroll compressors are generally the choice of most HVAC manufacturers, especially in their higher end units. Emerson is the largest manufacturer of scroll AC compressors used in the North American residential AC market.
Cons of Scroll Compressors
Because of a scroll compressor's impressive cooling power, it can become hotter during operation than other types of compressors. If the condensing unit has another imbalance, such as dirty coils or an inefficient fan, the heat from the scroll compressor can cause the system to overheat and shut down.
If it breaks, it's almost impossible to repair, and you will likely need to have a replacement compressor.
Rotary AC Compressor
Rotary compressors are typically small, silent, and dependable. They consist of one or more vanes/blades connected to the cylinder shaft. Inside a cylinder, the shaft is off-center. The blades spin around the cylinder as the shaft rotates. The refrigerant intake is placed where there is the most room between the shaft and the cylinder wall. The outtake is positioned where the space between the shaft and the cylinder wall is the smallest. The refrigerant is compressed as the shaft and vanes rotate, moving it to the smallest space possible. If you're familiar with the Wankel rotary engines, which have been used in some of Mazda's sports cars, the operation is somewhat similar.
Rotary compressors are the compressor of choice for mini split ACs and heat pumps, also called ductless ACs and heat pumps. Some of the models from Daikin use rotary technology.
Pros of Rotary Compressors
Because a rotary compressor has more power, it can cool more air than a scroll unit. Rotary compressors are thus preferable in larger central air conditioning systems, but may be inefficient in a smaller central unit or a window air conditioner.
Less expensive than a scroll compressor, which means a lower overall price of the air conditioning system.
Rotary units run cooler and have less of a risk of overheating the air conditioner.
They are extremely quiet. For residential air conditioners, the noise level of a rotary compressor is in the 40-55 decibel range, while the noise level of scroll compressors and other types is in the mid-60s to mid-70s.
Cons of Rotary Compressors
Rotary compressors don't offer the same cooling capacity as a scroll compressor in terms of how cold the air can get and how quickly it cools.
Cools its air at a slower rate than the scroll compressor.
Rotary compressors need regular maintenance and use. A rotary compressor cannot be left idle for extended periods of time without causing significant damage to the compressor. Running the compressor keeps everything running smoothly and the parts properly loosened and lubricated.
Swing Compressor
Swing compressors use technology developed by Daikin, and is offered in Goodman, Amana & Daikin HVAC systems. Its operation is somewhat similar to a rotary compressor, albeit with different components.
Pros of Swing Compressors
Smooth rotation with little friction and refrigerant gas compression with low loss,allowing for high operation efficiency.
Durable.
Few moving parts.
Centrifugal AC Compressor
Centrifugal compressors are commonly found in chilled water chillers. The centrifugal compressor uses centrifugal force to sling the vapor refrigerant outward, increasing refrigerant pressure and temperature before sending it to condenser coils or a condenser barrel, where the heat is removed from the refrigerant. Centrifugal air conditioning compressors are typically used in large HVAC systems.
Most residential HVAC systems do not use centrifugal compressors - they are more commonly used in industrial applications.
Screw AC Compressor
When it comes to industrial use, the screw compressor is very efficient and reliable. It is commonly used in large office buildings, factories, or other areas where a large amount of air must be continuously cooled. This design uses two helical rotors that rotate and move air from the compressor intake to the end of the screws and the outtake. As the air travels from one end to the other, the space shrinks, compressing the refrigerant.
The primary benefits of a screw compressor are its simple design and reliability plus their large size. Most rotary screw compressors are used in commercial applications and are 10 to 20 tons in size.
Most residential HVAC systems do not use screw compressors - they are more commonly used in industrial applications.
Single Stage, Two Stage and Variable Capacity Compressors
Single-stage compressors are used in the majority of home cooling and heating systems. They are the most basic and least expensive type, with a single speed. Single-stage units are capable of efficiently cooling or heating a home.
Two-stage compressors run at two different speeds, allowing them to better match their cooling or heating output to the exact needs of the home. The ability to run at a lower, more efficient speed aids in the removal of excess humidity from the air while saving energy, and the compressor can switch to full capacity if necessary to maintain consistent temperatures. Two-stage systems typically use less energy than single-stage systems.
Variable-capacity compressors provide superior control of home temperatures and humidity because, rather than operating at one or two preset levels, they can modulate their capacity in very small increments across a wide operating range. This enables very precise control of cooling and heating, ensuring even temperatures throughout the home while saving energy. While variable-capacity systems are generally more expensive, they offer significant savings on monthly energy bills and can be up to twice as efficient as single-stage models.
Which Compressors Do HVAC Manufacturers Use?
Pretty much all HVAC manufacturers today use a scroll compressor. One of the most popular and reliable compressors on the market today are called Copeland scroll, and made by Emerson. Little known fact - if an HVAC manufacturer uses a scroll compressor, there's a good chance it's from Emerson, even though there are other scroll compressor manufacturers. Trane and American Standard have their own version of a scroll compressor called ClimaTuff, which was designed in cooperation with Emerson.
The table below shows you the different types of compressors used by the various HVAC manufacturers.
| Manufacturer | Reciprocating | Scroll | Rotary | Swing |
| --- | --- | --- | --- | --- |
| American Standard | x | x | | |
| Trane | x | x | | |
| Lennox | | x | | |
| Carrier | | x | | |
| Bryant | | x | x | |
| Payne | | x | | |
| York | | x | | |
| Luxaire | | x | | |
| Coleman | | x | | |
| Daikin | | x | x | x |
| Goodman | | x | | x |
| Amana | | x | | x |
| Frigidaire | | x | x | |
| Maytag | | x | x | |
| Rheem | | x | | |
| Ruud | | x | | |
What Your Neighbors Say About Us

Dallas Heating and AC are excellent. They always have someone answer the phones, they are quick to come out and repair, and reasonable rates. We use them on all our properties.
Luis came out and was very professional and knowledgeable. They offered me financing and I also signed up for their no contract service maintenance program! Definitely refer this company
Dallas Heating and Air Conditioning did what 3 other companies couldn't, didn't give up and went the extra mile, at the same time didn't over charge me. It was more than necessary to share my experience with the rest of the world,
Josh and Skyler were amazing, they communicated everything they were doing, very thorough and respectful. Will definitely be using Dallas Heating and AC again!!!
These guys did a fantastic job all around! They were quick to respond, provided a competitive estimate, and got the work done efficiently. They replaced my over the tub ac unit and the outside condenser and fixed many issues with the previous setup.
Luis came out and did a fabulous job! We notice our AC wasn't blowing cold like it should be and he came out, add Freon to our system and it was back running great again! I will be using DHAC for all my needs from now on!