How To Hire The Right AC Repair Company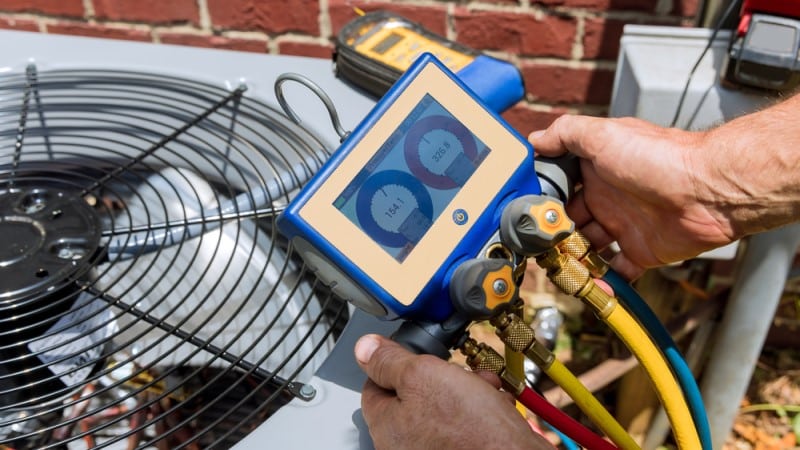 When it comes to the maintenance and repair of air conditioning systems, it is important to hire the right company for the job. This article will provide a detailed guide on how to hire the right AC repair company. It will outline key factors that should be considered when hiring an AC repair service provider as well as helpful tips to ensure that the desired outcome is achieved. Additionally, this article will also explain why it is essential to hire a licensed and qualified technician for the job.
Air conditioners are complex machines that require specialized skills and experience in order to diagnose and repair issues efficiently, so it's important to choose a reliable AC repair company that has years of experience in dealing with air conditioning systems of various sizes and complexities. Furthermore, they must have access to quality replacement parts and must be able to offer warranties on their services.
Finally, hiring an experienced technician who is licensed and insured can help give peace of mind knowing that any repairs done on one's air conditioning system will be performed according to industry standards. By following these guidelines, homeowners can rest assured knowing that they have hired the right AC repair company for the job.
Researching Local Companies
When searching for an air conditioning repair company, it is important to research local businesses. Start by searching for them online, in places like Google of Bing maps. You can also ask friends, family, or colleagues for referrals. It is also a good idea to read online reviews and search websites such as the Better Business Bureau (BBB) for customer feedback. Doing this research can help narrow down the list of potential contractors and can provide insight into customer satisfaction. Additionally, it is important to make sure that any potential contractors are licensed and insured. This helps ensure that the contractor has the necessary qualifications to complete the job safely and correctly. Checking licenses and certifications is the next step in finding a reliable ac repair company.
Checking Licenses And Certifications
After researching local companies for air conditioning repair services, the next step is to check the licenses and certifications of any potential contractors. This can be done by checking with the Texas Department of Licensing and Regulation. The contractor's license should be up-to-date and in good standing. Additionally, it is important to ask potential contractors if they are certified by a particular manufacturer or have any specialized certifications that may be applicable to their work. This will ensure that the contractor is qualified to do the job and has appropriate knowledge of the specific type of equipment being worked on. Furthermore, it is important to verify insurance coverage prior to allowing any work to be performed. Doing so will protect both parties from liability in case of an accident or damage during repair efforts. Having this information ensures that the contractor has taken measures to protect their customers' investments by ensuring their own safety and that of their workers. After confirming all necessary credentials, it is time to move on to reading reviews and testimonials from past customers about each potential air conditioning repair company before making a final decision.
Reading Reviews And Testimonials
Reading reviews and testimonials is a great way to gain insight into the experiences of past customers. It is important to take the time to read through reviews and see what people are saying about the company. Many air conditioning repair companies have online reviews on their websites, but it is also worthwhile to search for independent reviews on sites such as Yelp, Facebook or Google Reviews. It can be helpful to look for trends in the reviews, such as whether most customers appear to be satisfied with the job or not. Pay particular attention to negative reviews, as these can provide useful information about how a company handles unsatisfied customers. Additionally, ask friends and family if they have had any experience with a particular air conditioning repair company and what their experience was like.
By researching customer experiences, it is possible to determine which air conditioning repair companies offer quality service at an affordable price. Moving forward, it is necessary to ask prospective companies some key questions in order to assess whether they will be able to adequately meet one's needs.
Questions To Ask Prospective Companies
When searching for an air conditioning repair company, it can be likened to a treasure hunt - you must do your research, ask the right questions, and explore all of the possibilities in order to find the right fit. Asking questions during the search process will help you to determine which company is reliable and trustworthy. Here are some important questions to ask prospective companies:
What kind of experience does the company have? Ask for references and check reviews online. It is important to know what kind of reputation a company has before hiring them. Additionally, inquire about their certifications and licenses. Do they have any specialties? How long have they been in business?
By asking these questions, you can gain insight into the level of expertise that a company offers and ensure that you hire the most qualified professionals for your air conditioning repair needs. Moving on from here, requesting estimates and comparing pricing should come next in order to make an informed decision on who to hire.
Requesting Estimates And Comparing Pricing
Before hiring an AC repair company, homeowners should request estimates from multiple sources and compare prices. By doing this, they can get a good idea of the market rate for the service and ensure that they are not overpaying. When receiving estimates, homeowners should ask for details about the parts being replaced and the labor costs associated with the job. They should also inquire about any additional services or fees that may be included in the final cost. Additionally, asking whether the company offers discounts or promotions could result in cheaper services. Once all of the estimates have been collected, they should be compared to one another to determine which company is offering the best deal or value for money.
Warranties & Guarantees
When it comes to warranties and guarantees, it is important to get the details from the AC repair company. Most companies offer some type of warranty on their parts and labor and will vary in length. Inquire about any additional coverage or guarantees that may be available for specific services or repairs. Be sure to ask if there are any limitations or exclusions associated with the warranty or guarantee so that you know exactly what is covered. Additionally, find out how long the company has been in business and what kind of customer service they provide. A reputable AC repair company should have a good track record of providing quality services and standing behind their work. Ask for references from past customers who have used their services to ensure you are making an informed decision when hiring an AC repair company.
Conclusion
Finding the right air conditioning repair company can be an intimidating task. With so many companies to choose from, it can often feel like a challenge to find the one that will meet all of your needs. Yet, with some careful research and due diligence, one can find a reputable and qualified air conditioning repair company who will provide excellent service at a reasonable price.
First and foremost, researching local companies is essential for ensuring that the technician is properly trained and certified for work on your particular type of unit. Additionally, reading reviews and testimonials from prior customers is a great way to get an idea of how satisfied others have been with their services. Furthermore, questions should be asked to prospective companies in order to ascertain important details such as warranties and guarantees or even emergency services. Lastly, requesting estimates from multiple companies and comparing pricing should also be done in order to ensure that you are getting the best value for your money.
Overall, if one takes the time to conduct thorough research when selecting an AC repair company they will be rewarded with outstanding service unparalleled by any other provider in the area. Such a company will not only provide top-notch services but also provide them at an affordable price point making them truly unbeatable at what they do!
Thank you for taking the time to read this blog post on AC repair. At Dallas Heating and Air Conditioning, we are committed to providing you with the best possible service for your AC needs. If you are experiencing any issues with your AC unit, don't hesitate to give us a call. Our team of experienced technicians is ready to diagnose and repair any problems you may be having. Contact us today to schedule your appointment and keep your home cool and comfortable all year round.